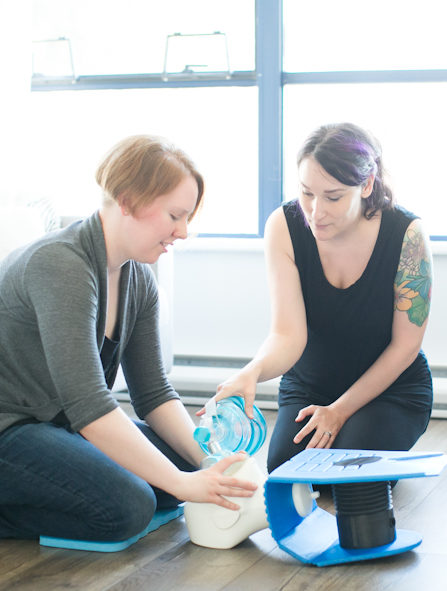 In addition to birth doula services, Jill does private birth planning consultations and offers education workshops in CPR, Fertility Care, and Water Birth in both Vancouver and across the country when she goes to conferences.
Thanks again for yesterday's class.
Wow – I was re-certing, but it was so great to refresh.The neo-nate experience and info was transformative and I truly think that I will be able to be much more present for my client(s) when when my first resuscitation takes place & if I am ever asked to help a midwife in an unexpected situation where her midwifery partner is not there yet.  Really profound.My confidence is much higher now & I thank you.You have a really great detailed clear way of explaining things & I learned a lot from the way you communicate to a group.You are obviously really experienced both as a Doula & First Aid Trainer & I admire you for all your years of skills development.It shows that this is your passion to care for families & health care providers. Very inspiring.
-S.M. Calgary Doula
CPR for Parents and Care Givers
This 2 hour course focuses on CPR and choking for infants and children, as well as accident prevention for once babies become mobile. It is breastfeeding friendly, and premobile infants are welcome to come along. If you are hosting this course in your own home, children of any age are welcome to be present.
Classes run throughout Greater Vancouver and the Fraser Valley every month.
Stay tuned for some classes on Vancouver Island in March.
To register or learn more, please visit www.safebeginnings.ca
CPR-HCP for Doulas and Midwifery Students
This is a specialized CPR-HCP class designed for doulas and midwifery students. You get your usual certification in CPR-HCP, which meets the requirements of the UBC midwifery program, and we also go in to how to modify for pregnancy and how to support clients through a neonatal resuscitation event both in home and hospital environments. Adult, child, and infant skills are covered, and this is a professional level certification that is appropriate for certifying organizations, midwifery school, postpartum work, and many workplaces outside of the birth world too.
Upcoming Courses:
Esquimalt/Victoria – September 9, 2018

Surrey, BC – November 10, 2018
CPR-HCP Re-Certs for Midwives
CPR-HCP is the level that is required by the BC College of Midwives. Open group courses are offered between January and March each year. Outside of those months, private groups are welcome. A minimum of 3 people is required for a re-certification at Jill's home and 6 at a different location (all participants already hold a valid HCP card) and 7 people for a full course (first time).
Fertility Care for Birth Professionals
Understanding charting options for avoiding and achieving pregnancy, and monitoring health.
Charting during the postpartum period, sleep deprivation, and breastfeeding.
Common conditions and abnormalities that require a more managed approach.
Water Birth Workshops
Learn the history, safety, benefits, and logistics of water birth in home and hospital settings.
Jill leads and co-leads these workshops around the Vancouver area every couple of months and in other area by request.