Birth is more than just the delivery. It is a beautiful journey of love. I believe that every person deserves to experience a happy and memorable birth that allows them to emotionally, physically, and spiritually connect with their own body. As a doula, my priority is making sure you feel valued in your amazing transformation and making you feel strong and capable while trusting yourself and your own power.
I started my journey supporting parents in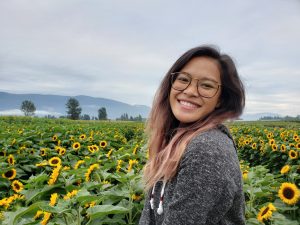 finding resources and understanding child development from newborn to early years. It has been a pleasure seeing the growth in not only the baby but also the growth in the parents who experience many milestones throughout their baby's life. Now I look forward to witnessing the beautiful journey of life. You are the master of your body and I encourage you to trust and be confident in your instincts and knowing you will be supported in your decisions.
Qualifications and education:
– Bachelor's Degree in Science in Health Sciences (2017-2021)
– Birth and Postpartum Training with Doula Training Canada (2021-2022)
– Canucks Autism Network Training (2021)
– HIGH FIVE certificate (2020)
– Lactation Consultant workshop (2023)
– Parents & Babies Program Leader at Place Maillardville Community Centre (2019-2022)
– 200+ hrs Postpartum Doula with Brood Care (2022-current)